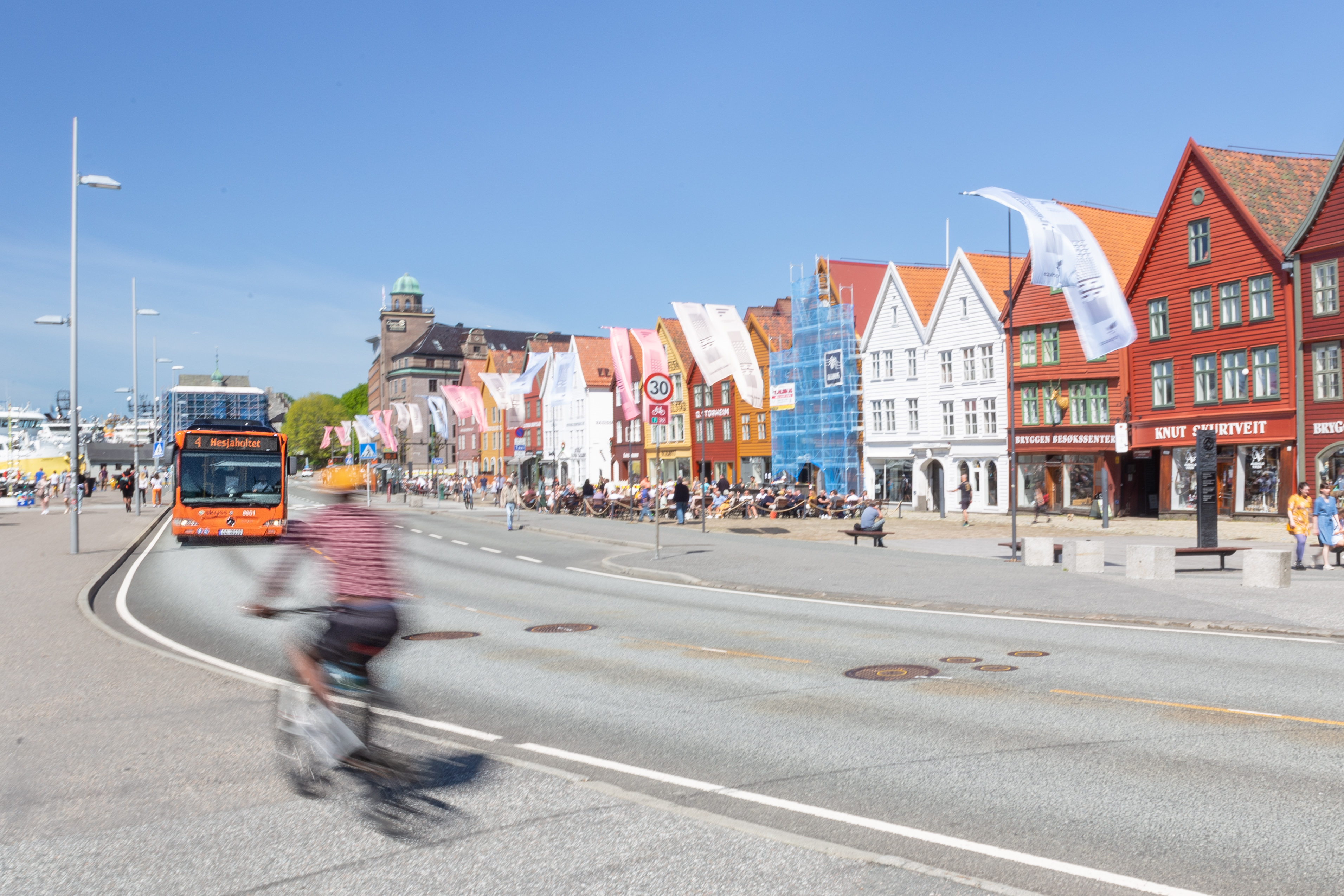 From July 3 to August 15 cars and motorcycles will not be able to use Torget and the southbound lane on Bryggen on route 577 in Bergen city centre.
This is due to a traffic regulating project aiming to improve air quality and promote greener, quieter and safer spaces in Bergen city centre.
Busses, taxis and mopeds not affected
Buses, taxis, and mopeds are not affected by the project. Goods delivery is limited to 05-15 every day.
Cars and motorcycles diverted via Fløyfjellstunnelen
During the project period cars and motorcycles are diverted via Fløyfjellstunnelen on European route E39.
If Fløyfjellstunnelen is closed for any reason, the regular traffic pattern will be reestablished, and the diversion signs will be covered. When the tunnel is open to normal traffic, the temporary traffic pattern will be reintroduced. Traffic guards are placed at closing points to reroute traffic if the tunnel closes.
Plan ahead
Travelers are advised to become familiar with the new traffic pattern and to plan ahead to find the easiest route to their destination. All hotels, activities, and properties on and around Torget and Bryggen are still accessible by all forms of transportation.
10 000 fewer cars
The project was carried out as a pilot in 2020 and saw traffic in Bergen city center reduced by an estimated 10 000 cars daily.
Roads closed for through traffic in Fjellsiden (mountainside)
In 2020 the project observed some challenges with increased traffic through some roads in the Bergen mountainside. As a consequence some roads will be closed for through traffic during the traffic regulation project this year:
Bernhard Meyers vei
Ole Irgens' vei
Fjellveien
Kalfarlien, Leitet and Brattlien
Bispengsgaten
Feedback
You are all encouraged to provide feedback on this project. Please use the tilbakemeldingsskjema to give your feedback.
A Miljøløftet project
The project is a part of Miljøløftet (The Green Pledge), a collaborative urban growth agreement for the Bergen Urban area, aiming to reduce pollution, emissions, congestion and noise by enhancing public transport, cycling and walking, and preventing that growth in the transport sector continues to be dominated by private cars.
Les mer om